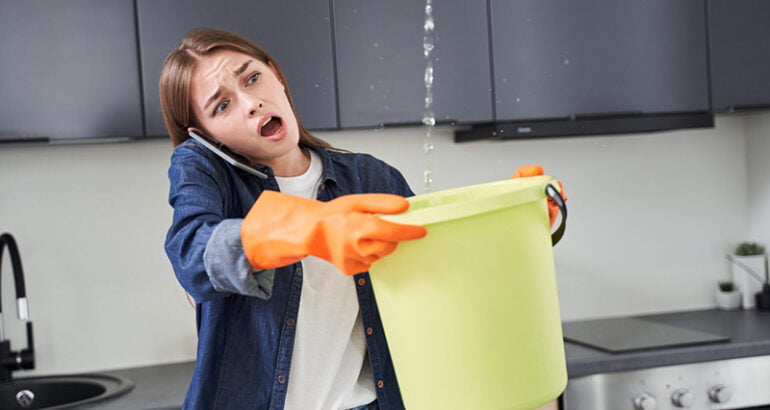 othing is more aggravating then sitting on your couch watching TV one day and feeling drops of water fall on your head. Majority of the time it's difficult to find the source of where the leak is coming from, but you want to make sure you're being proactive in finding it before it causes even more damage to your property.
A roof leak can be hard to find, difficult to repair, and even scary for homeowners if you don't know what to do or how to fix it. Here are a few signs that you have a roof leak:
Signs Of A Roof Leak:
Inside
Mold: Any sign of mold on ceiling walls indicates water has made its way into your home.
Damp or stained walls: Check walls for bubbles in the paint or water stains.
---
Outside
Lost or Damaged Shingles: If you are able to see damaged, twisted, or warped pieces of shingles chances are you've found a spot where water is possible entering your home.
Roof Flashing: Rusty dents can become small holes, and small holes can become leaks. Cracked or missing pieces may allow water to seep in.
Gutters: Sagging, dripping, or over clogged gutters may not redirect water from the roof.
Risks Of A Leaking Roof:
Damage to Plywood
Failing Roofing System
Mold and mildew
Attic and Ceiling Damage
Damage to electric and HVAC systems
Fire Hazards
Sagging Drywall
Slip Hazards
How To Find The Leak?
If you don't know where the leak is coming from and how it's entering your home:
*Contact Freddy and Son Roofing to help locate the source of the leak and prevent it from continuously leaking. 
If you know where the leak is coming from:
*Safely cover the area with tarp to stop the flow of water from entering your home. If you need assistance, contact us!
How to Prevent Future Leaks:
Regularly get your roof inspected every 2 years to make sure your roof is in good condition.
Keep gutters clean and free of blockage.
Trim tree branches away from your roof and gutters to prevent leaning and causing damage.
Reasons why the roof might be leaking?
Cracked Flashing
Broken Shingles
Improperly Sealed Valleys
Cracked Vent Booting
Ice Dam Damage
Improperly Installed Skylights
Clogged Gutters
Cracked Chimney
Condensation in the Attic