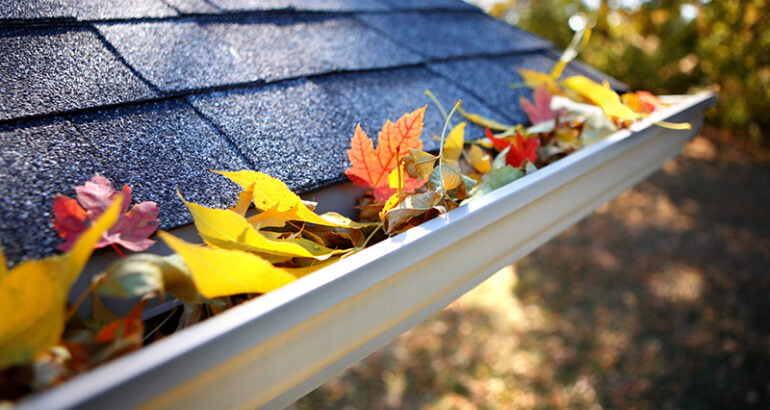 Cleaning your gutters may seem like a project that can wait, but putting it off can actually create more work and more costly repairs later on.
Normally, you want to do a gutter cleaning twice a year. Once in the spring and once in the Fall. But you always want to check your gutters whenever there is a big rain fall just to make sure they are clear and working properly.
Leaf debris and twigs can build up over time and clog up your gutters and downspouts. Leaving your gutters unkept will create an overflow of debris and is prone to damage your roof and fascia- or even worse, the foundation of your house.
But there is good news! You can avoid all these issues by following these quick tips to prepare your gutter and downspouts for the fall.
1. Clean Gutters And Downspouts
Begin by thoroughly removing all leaves, twigs, and debris in the gutter system (wear gloves to protect your hands). Once you have cleared it out, flush out the rest of the debris with a water hose. Ideally, you want to start draining at the far end and move towards the downspout.
If your gutter is not draining properly, chances are you have a clog in your downspout. You may need to disassemble the system, flush out the clog with a hose, and reattach it back to the gutter system. This can be a little tedious, if you don't feel comfortable doing this, call a professional. AKA Freddy and Son Roofing. ?
2. Inspect Gutter System & Fix Damages
After a deep gutter system cleaning, Assess for any damages. Identify any leaks, cracks, holes, missing pieces or screws that could have come off the gutters. Ensure the gutters are not sagging, pulling away from the roof, missing any sections, and that the downspouts are on nice and tight.
3. Trim Branches
Prepare your gutters for the Fall by trimming back any tree branches that may be coming up close to your gutters or that are touching your roof. Trees and branches see a growth spur in the summer, so avoid having to deal with future clogs by trimming overhanging branches that could cause a build up in your gutter system.
4. Install Gutter Guards
Gutter guards are the perfect way to keep your gutters clean and water flowing throughout the fall and winter. What are Gutter Guards? Gutter guards are a piece of hardware that are installed to cover your gutters, they function by preventing debris build up while still allowing water to flow freely into your gutter system. We recommend Leaf Relief by Ply Gem and E-Z Lock Gutter Guard Protection. These are the top gutter guards in the market.
5. Hire A Professional
As the Fall season is approaching, you want to be prepared for what the season brings. Take the hassle off your to-do list and hire a Freddy & Son Roofing representative to help you with your gutter project. We are a roofing, siding, gutter specialist company and with our knowledge and experience we can provide replacement, maintenance, and installation services. Check out our many 5-star Google reviews to see what we're about! Call us today to get a complimentary assessment on your project. Call today at (571) 393-1983.